Featured Vacation Rental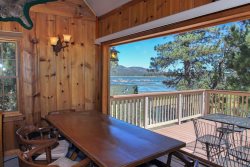 The Antlers - 2 Bedroom Vacation Rental in Big Bear Lake

Concierge Services | Big Bear Lodging
Our major commitment here at Big Bear Luxury Properties is to provide you with the best customer service in Big Bear and to make your stay with us a memorable one. Our friendly staff is available to you, not only to help you find the perfect big bear cabin, but also for a variety of different services that you can use while you're up here. Those services* include:
Catering/Professional Chef services
Firewood Delivery
Personalized Baked Goods (e.g. birthday cakes, deserts, etc)
Discount Coupons
Restaurants & Night Spots Information
Grocery Shopping
Attractions Information
Car Rental Information
Boat Rental Information
Massages/Spa/Salon Services
and more!
If you have a special need, let us take care of it. Our staff will be more than happy to assist you and guide you in the right direction. To request a special service, feel free to contact us online or call one of our representatives at (888) 866-4618.
*Services are dependable upon availability at the time. Please call our representatives for more information.
---
OTHER ONLINE SERVICES
Big Bear Activities | Area Map | FAQ | Driving Directions | Big Bear Road Conditions | Big Bear Cabins
---