Featured Vacation Rental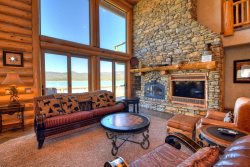 The Grand on the Shore Cabin Lodge a Lakefront Big Bear Vacation Cabin with majestic lake views, boat dock, outdoor hot tub, BBQ, pet friendly and walking distance to the village.
Things to do in Big Bear, California.
Welcome to Big Bear Lake, California. Big Bear is a beautiful four seasons resort community that sits in the mountains above the city of San Bernardino. It is the perfect vacation destination surrounded by the San Bernardino National Forest with many activities and attractions for people of all ages. With such versatility, it can be difficult to choose what to do while you are here, so we put together a list of some of the most popular activities you will want to check out during your Big Bear vacation.
Action Zipline Tours

Glide among the treetops with Action Zipline Tours. One of the most exciting ways to experience Big Bear year-round, weather permitting. A three hour tour includes an off-road ride two miles into the forest in safari jeeps, with nine high-speed ziplines that run down a mountain for the most avid thrill-seekers, a beautiful suspension bridge with stunning views of Johnson Valley as a backdrop for it all. Contact: 41693 Big Bear Blvd, Big Bear Lake, CA 92315 (909) 866-0390
Alpine Slide at Magic Mountain

Magic Mountain Recreation Area in Big Bear Lake is home to the world-famous Alpine Slide and offers family fun activities year round. In the summer a cool water slide and in the winter fun snowplay. The Alpine Slide at Magic Mountain is open year round and is Southern California's only authentic bobsled experience. Contact: 800 Wildrose Ln, Big Bear Lake, CA 92315 (909) 866-4626
Big Bear Alpine Zoo

The Big Bear Alpine Zoo. a rehabilitation facility offering injured, orphaned and imprinted wild animals a safe haven; temporarily while they heal or permanently as they are unable to survive on their own. 90% of all the animals brought to the zoo for rehabilitation are successfully released back into their native environment. Those that remain on exhibit are either too injured or have been imprinted by humans and cannot be released back into the wild to care for themselves.The zoo is run by Big Bear Valley Recreation and Park District, a Special District of the County of San Bernardino.
Big Bear Bowling Barn

Big Bear Bowling Barn offers the most fun you can find in Big Bear Lake! You can go and enjoy the amusement center, go bowling at The Bowling Barn, or enjoy cocktails and pizza as you watch your favorite sports team on big screen TVs at Alley Oops Sports Bar. There is something for everyone!
Big Bear Discovery Center

The Discovery Center is an educational and informational portal to the San Bernardino National Forest and is located within the heart of the Big Bear Valley. The goal of the center is to ensure awareness on how to become a more responsible caretaker of a national forest while increasing enjoyment and knowledge of Californiaís most recreated forestland, the San Bernardino National Forest. Contact: 40971 North Shore Drive/ Hwy 38, Fawnskin, CA 92333 (909) 382-2790
Big Bear Historical Society

Big Bear Historical Society and museum is open Wednesdays, Saturdays and Sundays from 10 a.m.- 4 p.m. May through October, offers a walk through the colorful and romantic history of Big Bear. Contact: 800-B Greenway Dr, Big Bear, CA 92314 (909) 585-8100
Big Bear Jeep Experience

Big Bear Jeep Experience is a new adventure that gives its customers the opportunity to get behind the wheel of a fully equipped, high-performance Jeep Wrangler JK and drive it off road on rugged terrain into the backwoods. Itís a far-from-ordinary off-road tour because the customer gets to experience firsthand what itís like to steer a 4◊4 Jeep over rocks and boulders. Contact: 42011 Big Bear Boulevard, Big Bear Lake, CA 92315 (909) 420-5828
Big Bear Lake Marina

Big Bear Marina is a great choice for having fun. Rent pontoon boats, fishing boats, motor boats. Scenic narrated tours available. We have jet skiing, wake boarding and water skiing with an experienced skipper to show you the ropes. Contact: 500 Paine Ct, Big Bear Lake, CA 92315 (909) 866-3218
Big Bear Snow Play

Conveniently located in the heart of Big Bear Lake, the most popular sledding hills in Big Bear. The Big Bear Snow Play is equipped with its own snow making system, which allows them to have the best snow conditions on the ground regardless of Mother Nature. This means that no matter when you come, you will have a blast going down the hill. Contact: Lakeview Shopping Center, 42825 Big Bear Blvd, Big Bear Lake, CA 92315 (909) 585-0075
Big Bear Solar Observatory

The Big Bear Solar Observatory is not only one of the most iconic structures in Big Bear Lake, it also houses a sun telescope with one of the largest apertures of the world. Owned and managed by the NJIT, it is a great place of observation. Located on North Shore Drive, the Big Bear Solar Observatory can be appreciated from various parts of the lake. Contact: 40386 N Shore Ln, Big Bear, CA 92314 (909) 866-5791
Big Bear Valley Sportsman's Club

The Big Bear Valley Sportsman's Club operates the only supervised shooting facility in Big Bear Valley. A NRA certified range and safety officer supervised. Shooters must provide their own firearms and ammunition. Eye and ear protection are required for all shooters and spectators within the shooting area. E North Shore Dr, Big Bear, CA 92314, (909) 585-4686
Fishing in Big Bear Lake

Fishing in Big Bear Lake will offer you one of the top rated fishing locations in all of Southern California as well as pristine waters. Big Bear fishing reports indicates freshwater anglers of all types will enjoy the quality trout and bass found in the local waters along with an abundant supply of catfish, crappie and blue gill.
Gold Mine Golf Course

Gold Mine Golf Course in Big Bear is a 9-hole, mountain-style course located at the base of Bear Mountain Resort in the Moonridge Meadow area. The course provides a tranquil atmosphere for players of all abilities and is complete with a pro shop, Bear Trap Restaurant along with golf club and cart rentals. You will play in mild summer breezes, aromatic pine trees and blue skies for a unique golf experience. (909) 585-8002
Hiking Big Bear

With over a million acres of National Forest few places on Earth offer as much habitat diversity as are available in Big Bear. We offer some of the best hiking in Southern California with logging roads to trails to cross country, there is a path for everyone. In Big Bear the general climate is alpine, with large areas in the East Valley and Cactus Flats has a high desert climate while throughout the valley there are pockets of marshes, springs, meadows and wetlands.
Swimming in Big Bear Lake

Summer swimming in Big Bear Lake is refreshing and fun for everyone. If you want a safe swimming area to bring the family, Meadow Park is the best place to go with its sandy swim beach a lifeguard, a floating dock, water toys, snack bar and public restrooms. For the more adventurous swimmer you can find all kinds of swimming and wading spots around the lake,but note there are no lifeguards and Lake Management requires that you swim within 50 feet of the shore.