Featured Vacation Rental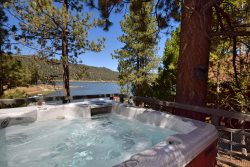 Cozy on Cove Lakefront Cabin- 3 Bedroom Vacation Rental in Big Bear Lake
Snow Summit Ski Resort
Cabins in close proximity to Snow Summit Ski Resort perfect for the skiing and snowboarding enthusiast family
View all Big Bear Cabins
Browse our entire inventory of Big Bear cabins. Anything from cozy one bedroom cabins to superb 6 bedroom big bear vacation rentals.
Big Bear Pet Friendly Cabins
Dogs - they just love Big Bear! Here we have a selection of dog friendly big bear cabins so that you donít have to leave the four-legged family member behind. Groups with dogs get a complementary doggy-basket.
Big Bear Lakefront Cabins
Regardless of whether itís summer or winter, staying at a lakefront cabin in Big Bear always adds something special to your stay. Our Big Bear lakefront rentals also include many amenities, all within budget. Our list has big bear lakefronts with boat dock, pet friendly lakefronts, lakefronts with internet access, luxury big bear lakefronts and much more.
Big Bear Cabins with Hot Tub
Nothing like spending a whole day exploring Big Bear, then return to your cabin to relax in your own private hot tub. Here is a list of big bear cabins with hot tub.