Featured Vacation Rental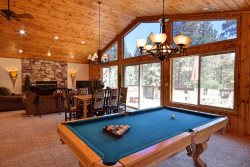 Evening Breeze Cabin a Big Bear Vacation Cabin for the whole family and dogs to enjoy with outdoor hot tub near Snow Summit Ski Resort.
Regardless of whether itís summer or winter, staying in a lakefront cabin in Big Bear always adds something special to your stay. Our lakefront cabin rentals also include many amenities, all within budget. Some cabins have a dock, some cabins are pet friendly and include internet access. Fully equipped, and more.